Diana Danelys De Los Santos, internationally know as Amara "La Negra" was born October 4th 1990, in Miami, FL. of Dominican and Italian descent. Amara is a young electrifying singer with a style of her own; Singer, Song Writer, Actress, Model, Dancer with such a strong power that makes her an amazing entertainer to the eyes of whom has witness her performances. Amara is the only child of an immigrant mother whom enter the United States thru the Mexican border. From a very early age Amara had her own identity and not only knew what she wanted, but she showed that she was an out of the ordinary child when her first words as a baby was "artista" (

Spanish

 for artist). Amara comes from a family composition of a hard working single mother who struggled to always support Amara with her artistic career from bringing her to auditions to becoming mother, father and head of household.

She began her artistic career at the young age of 4. Her first stage presentation started in school events and festivals. The first time she appeared in the international scene was in 1994 when she won "Miss Chiquitita" in one of the most viewed latin TV shows in Latin America, The Caribbean and The United States; "Sabado Gigante" (UNIVISION). Her spark made viewers want to see more of that young girl who's innocence capture spectators all over the United States and Latin America. She then was signed to Univision production for 6 years. Every Saturday during her contract she was featured in the children segment of the show. Slowly but shortly she began to make a name for herself. At the age of five she started doing commercials for brands such as Hawaiian Punch, Oscar Mayers, Walt Disney World, among others. Amara's versatility is outstanding! She sings everything from Latin, Latin Urban, Tropical, Afro, Soul, Dance, Pop, R&B & Soca. Her "Live" performances and TV presentations are breathtaking. More and more people are noticing and want to be a part of Amara's ascending career. Amara has been blessed to work with the following Producers & Composers: Victor Daniel, Alejandro Jaen, Marco Flores, Eddie Montilla, Kiko Campos and Maffio (Alkatraks Entertainment, LLC), among others.Amara has been constant in the scene by participating in national and internacional Latin TV chains such as: Telemundo, Univision, Telefutura, Mega TV and America TV. Amara also has been feature as a Model in Music Videos, Runways, Catalogs, Magazines, Newspapers and so on. Her talent and personality have brought her to participate in internationally know festivals, awards and major events such as: Premios Lo Nuestro, Latin Grammys, Premios Juventud, Latin Billboards, Flamingo Jr. Awards, Calle 8 Festival, International Talent Festival in Miami, Bellas Artes Theater Talent Festival in the Dominican Republic. Amara has performed with artists such as: Gloria Estefan in the In the American Airlines Arena, Celia Cruz, Oscar de Leon, Johnny Ventura, Los Hnos. Rosario, Tito Puente, Tito Nieves, Milly Quezada, among others. Amara have also participated in benefit events for the American Cancer Society.In 2009 Amara won 3rd place out of 12 contestants in the very popular TV competition "Diva Latina" featured in Univision's Sabado Gigante. Amara is currently the face of Giannini's Eye Wear.She emphasizes the fact of using music as a bridge to reach people's hearts, and inspiring them to contribute to the world by expressing their own thoughts. Amara describes herself as an artist whose main goal is to connect with her audience and leave them meaningful messages and lessons about life.
Amara has been a member of the American Society of Composers, Authors and Publishers since 2007.
——————————-
BIO

 DE : AMARA "LA NEGRA"
NACIDA EN LA CIUDAD DE MIAMI FLORIDA, EL DIA 4 DE OCTUBRE DE 1990 DE MADRE DOMINICANA CON DESCENDENCIA ITALIANA, AMARA "LA NEGRA" COMENZO SU CARRERA ARTISTICA DESDE MUY TEMPRANA EDAD CUANDO PARTICIPABA EN FESTIVALES Y EVENTOS ESCOLARES. DE IGUAL MANERA, GANO EL CONCURSO DE SABADO GIGANTE "MISS CHIQUITA" DONDE SU CARISMA Y ENERGIA CAUTIVO A LOS ESPECTADORES QUIENES HAN SEGUIDO A AMARA DESDE ENTONCES.
DESDE AHI, HA SEGUIDO PARTICIPANDO Y DEMOSTRANDO SU INMINENTE TALENTO EN PRESENTACIONES DE GRANDES CADENAS DE TELEVISION COMO TELEMUNDO, UNIVISION, TELEFUTURA, CANAL 41, AL IGUAL QUE HA PARTICIPADO EN DESFILES DE MODA, MODELO DE CATALOGOS, Y COMERCIALES COMO OSCAR MAYER, SABADO GIGANTE, HAWAIIAN PUNCH, WALT DISNEY WORLD, ENTRE OTROS.

SU TALENTO Y PERSONALIDAD LA HAN LLEVADO A PARTICIPAR EN RECONOCIDOS FESTIVALES Y EVENTOS TALES COMO EL FESTIVAL DE TALENTO INTERNACIONAL, PREMIOS FLAMINGO, EN CONCIERTOS DE GLORIA ESTEFAN EN EL AMERICAN ARLINES ARENA,EVENTOS DE LA LIGA CONTRA EL CANCER, CALLE OCHO, FESTIVAL TODO POR EL NINO, FLAMINGO JR AWARDS, FESTIVAL DE TALENTO DEL TEATRO DE BELLAS ARTES Y EN EL 5TO FESTIVAL DE LA CANCION EN SANTO DOMINGO, REPUBLICA DOMINICANA.
SU PECULIAR ESTILO Y SU PASION POR LA MUSICA HAN LLEVADO AMARA POR EL CAMINO DEL EXITO. EN EL 2009 GANO EL 3RD LUGAR EN EL CONCURSO DE SABADO GIGANTE "DIVA LATINA". HA TRABAJADO CON GRANDES PRODUCTORES Y COMPOSITORES TALES COMO ENTRE Victor Daniel, Alejandro Jaen, Marco Flores, Eddie Montilla, Kiko Campos and Maffio (Alkatraks Entertainment, LLC),y recientemente con Sergio george Entre  OTROS
Amara a trabajado con artistas como: Gloria Estefan in the In the American Airlines Arena, Celia Cruz, Oscar de Leon, Johnny Ventura, Los Hnos. Rosario, Tito Puente, Tito Nieves, Milly Quezada,entre otros.
SU VOZ ANGELICAL Y SU VERSATILIDAD DE PODER INTERPRETAR UNA BALADA, POP, SALSA, MERENGUE, BACHATA, CUMBIA, R & B, GOSPEL O UN HIP HOP, HACEN A AMARA "NEGRA" UNA MUJER LLENA DE TALENTO CON UN FUTURO PROMETEDOR EL CUAL ELLA PERSIGUE IMPLACABLEMENTE HASTA LLEGAR A LA CIMA.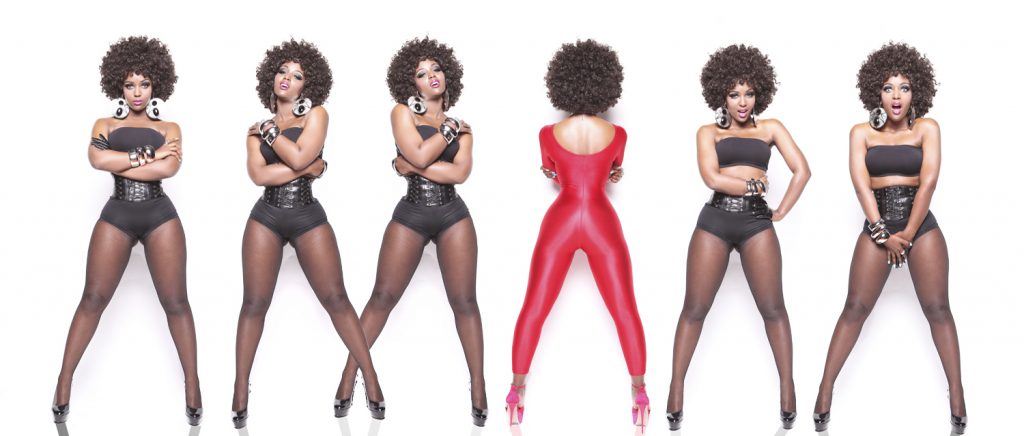 Book AMARA LA NEGRA for your corporate event, appearance, speaking engagement, private party, public concert, fundraiser, or endorsement. Submit a Booking Request Form and an agent will reply within 24 hours. Booking AMARA LA NEGRA is that easy…