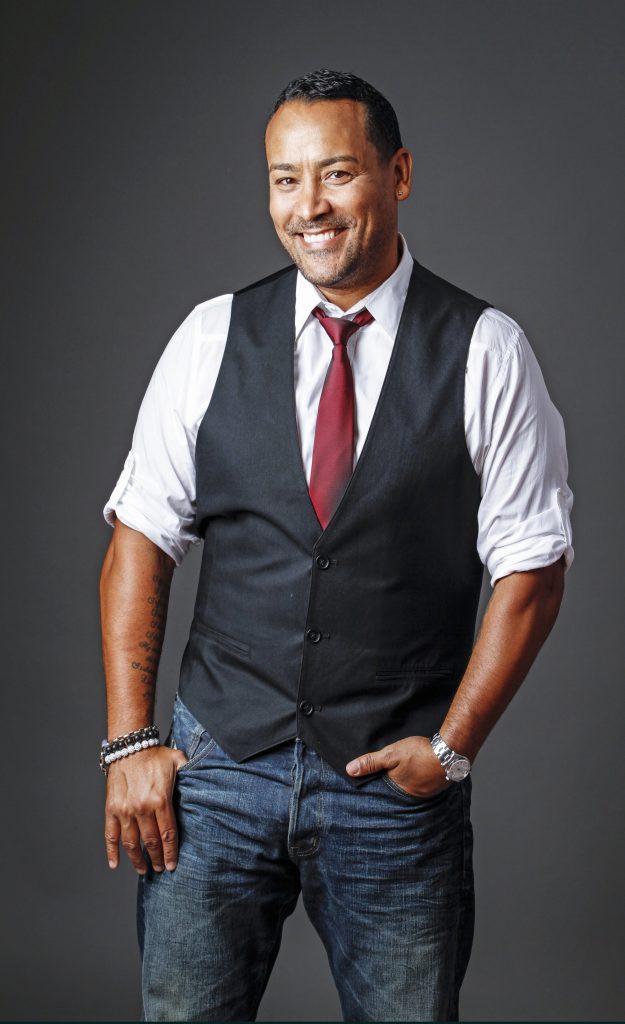 George LaMond
When you hear the name George LaMond, you think of songs like "Bad of the Heart","Don't Stop Believing" and "Si Tu Te Vas".  This Bronx native has worked diligently and moved toward the fulfillment of his American Dream.  George LaMond, born in the U.S. Capital Washington, DC and raised in Bronx, New York. George's musical career began in the 6th grade, where he and school mates discovered he can sing. George continued to practice his vocals growing up and the best place to hear his vocals was in the bathroom. The voice you hear today received no formal training.
Although George's passion lay in music, he pursued his education and attended the High School for Art & Design. LaMond also had a passion for art, but later he discovered a new genre of music "Freestyle" aka "Dance Music". In 1989, he began to get involved. George then signed to an independent label Ligosa Records and later on was signed by Columbia Records. LaMond had a variety of hit songs, such as "Bad of the Heart", "Where does that Leave Love", Look Into My eyes", and "Without you","No Matter What." George's life began to change. He began to lead the life of a hot artist that everyone wanted to market.  He was supplied with everything, such as music, producers and his image. George even toured with New Kids on the Block to name a few. 
LaMond later fulfilled obligations with Columbia records, but didn't give up. He continued to master the craft of  live performance . His songs were still loved and fans continued to show loyal support.  While continuing his career in English he was then approached by John "Gungie" Rivera from Prestige Records/Sony  to release his first Latin Album (Entrega). LaMond followed his Puerto rican roots and was first artist to be signed to "Prestige Recordings", where he releases his first single, "Si Tu Te Vas".  It was an instant Billboard Tropical smash, Latin Gold Record. With one song, George was back on the music scene where he was meant to be.  He later release his second album, GL, which included radio hits "Jurare Quererte" and "Volver Amar"   
During LaMond's career he has received nominations for several distinctive awards, including "Best male Pop Vocalist" in 1992 and Best Male R & B Vocalist by the New York Music awards.  He was also presented gold record plaque for the Album "Entrega"; Winner in 2000 New York Ace Awards for Best New Vocalist and the Winner 1991 Winter Music Conference Award for Best Freestyle Singer and a Recipient of 1991 Best Desi Arnez Vanguard Award andrecently
Received 2009 Lifetime Achievement Award from New Yorks WKTU.  
LaMond also had the opportunity to work with many great artist and musicians and to mention a few:  Paul Simon,Marc Anthony, Brenda K Starr, Sergio George,Robert Cliviles,C&C Music Factory,Chris Barbosa,Tony Moran Luchito Cabarcas, Jose Lugo, Marc Quinonez, Bobby Allende, Johnny Rivera, and Eddie Santiago. The list goes on and on. 
As LaMond continues to perform worldwide, he has currently signed to number one Dance Pop Label Robbins ENT. Home of Profile Records Former Owner Cory Robbins, and is currently touring his latest hit "DON'T STOP BELIEVEN" Currently spinning on Major radio stations. Number 1 most request song on New Yorks Z100 & KTU 103.5 FM. 2014 will bring a new sound for George LaMond debuting his New Song "BRINGING MY LOVE DOWN". On his BAG MUSIC imprint. George continuous to thank is fans for the loyal strong support.
 Book GEORGE LAMOND for your corporate event, appearance, speaking engagement, public concert, fundraiser, or endorsement.
Submit a Booking Request Form and an agent will reply within 24 hours. Booking GEORGE LAMOND is that easy…
 Book GEORGE LAMOND for your corporate event, appearance, speaking engagement, public concert, fundraiser, or endorsement.
Submit a Booking Request Form and an agent will reply within 24 hours. Booking GEORGE LAMOND is that easy…