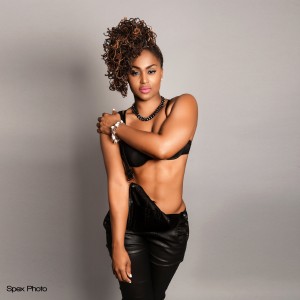 Once in a while, a musical prodigy comes along and disrupts the flow of the music industry. That prodigy can be found anywhere across the world wherever music can be heard. In this instance, that "
diamond
 in the ruff" can be found in the heart of Miami, Fl. An artist that has reached a level of stardom that only an artist can fathom this early in their career. Still at the tender age of 26 and only being a Music Recording Artist for a bit short of 10 years, she definitely portrays the talent to exceed beyond where others dream. With her vocal singing talent, that was inherited from her mother, along with her lyrical rap skills she is destine to dominate the Music Industry and leave everyone in awe. LaLah is one of many female lyricist who writes all of her own music, that you will have nothing else to do but feel her music every time you press play. 
              Without knowing which direction she would take, she touched it all. Starting with Gymnastics, to technical dance classes, to being a Professional Back Up Dancer for several well renown Recording Artist and now her debut, as a young melodic rapper, you'll never know what's next. 
Always cheerful with a humble attitude and style completely different from most, she is setting the scene for being unique compared to others of her caliber with a persona and work ethic that many young artist must be taught. Not in this instance; LaLah is a true natural. Establishing this, she struck into the music industry in September of 2008 and started off developing a large Fan Base at one of Miami's most elite Magnet High Schools, Dr. Michael M. Krop Senior High, where she attended for all of her high school years. Though being a dancer, perfecting Ballet and Modern techniques within the S.T.A.R magnet program in grade school, it surely hyped her popularity as a performer as well amongst her peers. As she continued to strive to become a hot commodity to any and every one in South Florida, LaLah became a professional back up dancer for International Pop Star "Flo-Rida" shortly after graduating and most recently, Uncle Luke's Lead Dancer
, along with several other artist while perfecting her craft as a Recording Artist herself. This tells you that she definitely can "Do It All!". 
            That's right!! There's no limit to what the most high has given her. Her genres range from Hip Hop, Urban Pop all the way to a hint of Rock. You name it, LaLah does it! Definitely an "outside of the box" artist. She has the professionalism and performance to keep up with the "big dogs". Opening for Flo Rida, Mario, Elijah King, City of God to Rick Ross and many other acts within their caliber with her famous "LaLah Show" numerous of times. Her name is more like a musical tone that you sing with rhythm and melody, her style, her attitude, her talents and her ability to make you rewind her track a second time is unquestionably the reason why this talented lyricist is headed to the very top. And, check this! She's all clean! No vulgarity or profane language but still get around to keeping it tasteful. With the buzz she's creating right now and with the local fan base that she has, there is no stopping her reign. With her mind blowing stage presence, she has the ability to captivate the audience by her look alone.  
            So, maybe with her voice, her moves, charm or look, LaLah's going to share every gift that she was given to entertain you. Entertainment with a purpose to gain support and favor of anyone who witnesses her talents, while she naturally and gracefully puts on her famous "LaLah Show".
Performance History: 
B.E.T Hip Hop Awards- Miami, Fl. (2017)
Pepsi "Funk Fest"- Miami, Fl- Orlando, Fl.- Tallahassee, Fl. (2015-2017)
"Hip Hop Smackdown"- Detroit, MI (2017)
AWC Ent Presents: LaLah Live at The 3rd Annual Elegance Party-Delray Beach, Fl. (2016)
Vivid Rich Music Tour Concert-Coral Gables, Fl. (2015)
Royal Coils Hair & Fashion Show-Fort Lauderdale, Fl. (2015)
Be You Back To School Jam Concert – Fort Lauderdale, Fl. (2015)
Bryant McKinney's: Entertainment Mondays Artist Showcase – Davie, Fl. (2015)
"Queens Of The Mic" Artist Showcase-Orlando, Fl. (2015)
"Prettier On The Other Side" The EP Artist Showcase & Mixer: Powered by LaLah – Miami, Fl. (2015)
Best In Florida Awards – Miami, Fl. (2014)
"A Great Influence" Concert Headliner: North Miami Senior High School – North Miami, Fl. (2013)
Dynamic Beauty Exposition – Miami Beach, Fl. (2012)
Alonzo Mourning's "Zo's Summer Groove" Concert – Miami, Fl. (2011 & 2012)
Inner Beauty Hair & Fashion Show – Fort Lauderdale, Fl, (2011)
Monie Love's "Ladies First" Artist Showcase – Miami Beach, Fl. (2010)
Coast To Coast Music Conference: *First Place Winner* – Miami Beach. Fl. (2010)
Rick Ross' "Hip Hop Grub Spot" Grand Opening – Miami, Fl. (2009)
       And several other live performances for Miami's #1 Hip-Hop & RnB Radio Station, WEDR 99-Jamz events.
Recognitions:
Nominated for "Best Female Lyricist in Florida" for the Best In Florida Awards (2016)
Nominated for "Best Female Hip Hop Artist in Florida" for the Best In Florida Awards (2016)
Nominated for "Best Female R&B Artist in Florida" for the Best In Florida Awards (2014)
Nominated for "Best Female Lyricist in Florida" for the Best In Florida Awards (2013)
Book LALAH for your corporate event, appearance, speaking engagement, public concert, fundraiser, or endorsement.
Submit a Booking Request Form and an agent will reply within 24 hours. Booking LALAH is that easy…