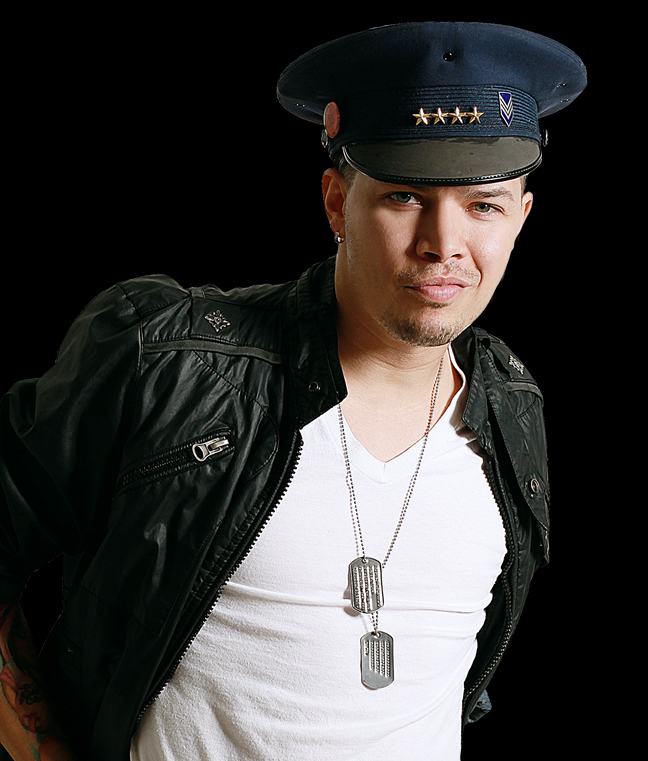 SITO ROCKS
Passionate about the visual arts and the performing arts, Sito Rocks outburst for music began in his hometown Miami, Florida. At a young age his infatuation for music was inspired by his father, who was a lead percussionist in a salsa band in the late 70's early 80's. This Renaissance Man known on his driver's license as Benhur Barrero II, a bilingual recording artist, songwriter, actor, received a BFA in Photography & Graphic Design. While developing music & an acting career he's photographed giants of the industry, creating bold, energetic graphic images of musicians, athletes, and models for magazines, CD covers, calendars, corporations, and advertising. Sito Rocks dedicates 110% in his many crafts and is becoming the reigning monarch of eclectic bilingual sounds. His style serves up an intoxicating shot of dance up-tempo, catchy melodies, & the capability to hit different genres. Some of his well known up tempo Spanglish tracks are "Solo Tu", "Party Rock MAMBO Anthem" – LMFAO, "Dime Tu Nombre" – Swedish House Mafia just to mention a few. Not only does Sito write his own music, he also directs and records his own music videos as well.
Sito Rocks and Mario "Genio" Coto founded their own music production & song writing company, Smash 11 Productions, in 2007. A few months later Sito had the opportunity to co-write 4 songs on Miami's well know DJ Laz's album "Category 6" released July 2008, which charted on Billboards top 100. Sito Rocks also featured on "Dale Candela". In September 2008 Sito Rocks released the single "Un Beijo" (75 Brazil Street remix) which was one of the more popular remixes in the dance music scene. Crossing over from Spanish tracks into the English dance music. Sito Rocks dance single "Let Go" has been rocking heavy on Sirius Radio dance channels and Goom Radio Internet dance channels as well. In December of 2010 Sito Rocks & his friends Mario "Genio" Coto had the opportunity to produce a Sito Rocks feature and remix for Enrique Iglesias up-tempo dance single "Tonight" also featuring Ludacris.
On May 1, 2011 Sito Rocks joined the lead cast of Mun2 first bilingual original scripted series "RPM Miami". The series ranked among the top programs across all Hispanic and English cable networks, making it the 7th most watch program, regardless of language, among persons 18-34 at 10pm on Sunday night. Not only does Sito get to display his acting ability on the series, he also had the opportunity to submit his music for the sound track of "RPM Miami" as well. Fueled by the record-breaking success of "RPM Miami," mun2's highest-rated premier during prime time in more than three years, the network announced "RPM 2" to be filmed and released mid 2012.
A man in a class of his own that has the desire to leave a permanent impression with his mind blowing creative ideas. This will be the new beginning of endless surprises. Once you thought you've figured out Sito's patterns and movements, he hits you with something bigger and better each time. Without a doubt, this bilingual multi-talented artist is unstoppable, incredible and on his path to be super star. Ladies and gentlemen, I introduce to you… SITO ROCKS!
Book SITO ROCKS for your corporate event, appearance, speaking engagement, private party, public concert, fundraiser, or endorsement.
Submit a Booking Request Form and an agent will reply within 24 hours.
Booking SITO ROCKS is that easy…

Contact us to Book SITO ROCKS at Angel@AERManagement.com
Sito Rocks, Sak Noel – Party On My Level

Party All The Time – Sito Rocks

Sito Rocks – DIME TU NOMBRE – official tour footage

Sito Rocks – LET GO (official video)

SITO – UN BEIJO (OFFICIAL MUSIC VIDEO)

SOLO TU – Sito Rocks – (official video) Lambada